We are living in a digital age, where customers are using Google searches to find everything. Whether they want to buy a new car or look for the nearby hair-dresser, Google has become their go-to tool to find service-providers.
It means that the majority of your potential customers are online and if you want to grab their attention, you'll also need an online presence. A strong web presence can help your business in many ways.
Not only does it help you generate more leads and boost the overall revenue, but it also helps you build a powerful brand identity. With an online presence, you can reach out to the potential audience and boost the overall business growth. So, if your business isn't already online, make sure to do it as soon as possible.
Here are some of the additional reasons why web presence is important for your business.
Help Customers Find Your Business Easily
When you have a website or a business social media account, it becomes easier for the customers to find you in the clutter of the Internet. It doesn't matter if they are specifically looking for your business or want products/services that you offer, with a website, you have the power to engage a potential customer while telling him about your business/services at the same time.
While looking for a specific service, the majority of customers start their journey with a Google search. Now, if your business is online, you can appear in the Google search results every time a potential customer is looking for the services you provide.
All you have to do is make your website SEO-friendly so that it can appear in top results for the potential search queries.
Showcase Your Products and Services
A website will act as an exhibition for your products and services. You have complete control over what goes on the website. So, make sure to add descriptive elements that precisely explain the products and services you provide to the customers.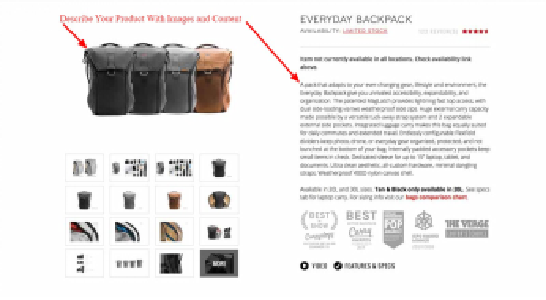 Whenever a new customer will land on your website, it must be easy for him to understand what you have to offer that could make his life easier. To achieve this goal, make sure that your website has the required content and visual elements that describe your objective as a brand.
Moreover, with the smart placement of CTAs, you can guide the customer through your sales funnel and convert potential leads easily.
A business that serves its customers online is trusted more than a company that only operates offline. In fact, businesses that do not have a web presence often leave a bad impression on first-time buyers.
Here's an example.
If you own a small burger-outlet in the locality and you're the only one providing online delivery, people will definitely buy your burger over other food outlets. As a result, you'll be able to outrank the competition.
Having an online presence is one of the most effective ways to make an identity for your brand in today's cut-throat competition. Online marketing gives you the opportunity to analyze the market and build strategies to grow your business.
Whether you have a website, a social media page, or a YouTube channel, having an online presence gives you the opportunity to interact with the consumers. People have the power to give feedback online and get their queries resolved at the earliest.
This also gives you the opportunity to come up with strategies to serve your unhappy customers. When someone posts negative feedback, it's your job to look for the loopholes and resolve the issue.
It also doesn't mean that you should only respond to negative comments. Even if someone has said "Great Job" in the comment section, a simple "Thank You" would be good. Replying to customer feedback will turn you into an authority in the industry. As a result, it'll become easier to build long-term relationships with customers.
Acquire Customers Nation-Wide
Let's say you own a local clothing brand that's doing exceptionally well in the local market. So, what would be the next step for your business? The answer is expanding the business and serving the nation-wide audience.
However, that's only possible when you have an online clothing store. An online portal will give customers the ability to make a purchase while helping you easily process bulk orders at the same time.
Moreover, you'll be able to turn your local clothing business into a nation-wide recognized brand, eventually skyrocketing the overall business revenue.
Web presence isn't only about having a fully-functional website. There are thousands of businesses that solely operate from their social media pages (Facebook & Instagram) and earn millions of dollars in revenue. However, in any case, you can't expect your business to survive without providing customers with online services.